esteeme1 wrote:Hi Chris,

Thanks for the thought. Of course I would consider any referrals but my back log gets pretty full as far as modeling goes. I can't make any promises that I could schedule extra work.

This may be a good time to bring up pricing. I know this has been discussed for machine time but I haven't seen to much considering modeling. (Vectric please don't think I'm trying to horde in on your great work but this is a modeling software) My free lance charge may not reflect yours. I get a lot of silence on the line when I quote my pricing. Considering the time involved in the modeling I just try to stay away from it. I don't think it's beneficial/cost effective to charge reduced rates for free lance. I don't mind incorporating it into my work and feel the modeling offsets the price of the piece. Most of the time I have repeat business as well. I'm not sure what your charging but personally feel that charging $25 an hour is not out of the question and I normally place a cap around $200 to $300 dependent on the details. I always reserve the right to reuse my models unless it's copyrighted but then the price would be more.

I find most everyone comes in thinking there going to get a model for $50 and never consider the time involved.
I get the same thing. People see $25 on my site for a model and think that's what I do all models for. I don't charge by the hour, I have a minimum price I set for custom modeling and the busier I get the higher it gets. Currently my base is $175 and goes up from there based on the complexity. I have no upper limit but I don't go crazy with it, I think the most I've ever bid on a project was $650 and that was a highly detailed scene with multiple marines in full gear. Even that I probably would bid less on at other times of the year but it came in during April which is one of my busiest times. One difference we have though is for custom modeling I don't reuse anything, if a customer is willing to pay my price for it as far as I'm concerned they get exclusive use. If someone else wants the same thing they'll have to pay me at least as much and I'll make it all again. That's never happened yet but I keep the possibility in mind.
I won't accept any military emblem for custom, if it's a real military emblem it's $25 and it's available to anyone who wants to buy it. I've had one customer who was incensed that I wouldn't negotiate that $25 price and didn't buy the model after I made it. Most of the comments I get on my pricing is that I could charge more. Most of my customers are in business and are passing the modeling cost on the their customers, but I started the site because when I needed a model for my nephews plaque they weren't available. I don't want to get too expensive for the little guy doing a one off as a gift.
This can lead to some mind bogglement. I charged $25 for this: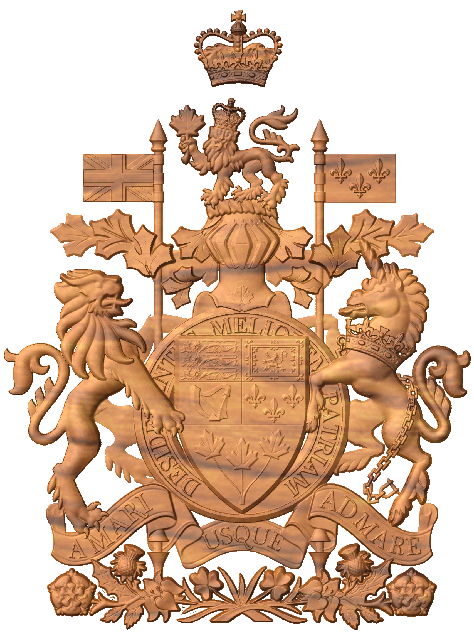 I spent a month on this. I had a lot of interruptions and made 3 other models during that time but if I had focused on it exclusively it still would have taken most of a week. If this was custom modeling I probably would have bid $500 for it, but it's an official Canadian military emblem so it was $25. There was really only one difficult item in it, but there's just a lot of stuff in it.
So I can understand why people may be shocked when they ask for a custom quote.