I gave the trial a test run with the leaf model, came out excellent! Had to post a couple shots.
I unlocked the uniform model size and scaled the z depth to make the carving deeper, its about 1/2 inch deep.
This run had 3 roughing passes at .1 inch deep and used a .25 ball nose bit at 20% stepover for the finishing pass.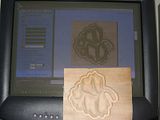 I also did a run in bloodwood, .25 ball with a 10% stepover finishing pass.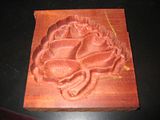 Pretty slick!
-Chipmeister